Anti-hypertension diet may reduce the risk of gout experts highlight in leading journal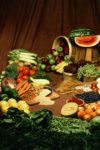 A diet known to reduce the risk of hypertension and cardiovascular disease may also lower the risk of gout, says research published in the British Medical Journal.
Data was recorded from over 40,000 men aged 40 – 75 years. Over a 26-year time period, a total of 1,731 men were newly diagnosed with gout. Men with a higher DASH score (who ate more fruit, vegetables and low-fat dairy products) were less likely to be diagnosed with gout. But men following a more typical Western diet showed an increased risk of developing gout.
Controlling for other gout risk factors, such as age, weight, hypertension, kidney failure and intake of alcohol or coffee, did not alter the associations.
"For individuals at high risk for gout, especially those who also have hypertension, the DASH diet is likely to be an ideal preventive approach," says lead author Sharan Rai. "The diet may also be a good option for patients with gout who have not reached a stage requiring urate-lowering drugs or those who prefer to avoid taking drugs. And since the vast majority of patients with gout also have hypertension, following the DASH diet has the potential of 'killing two birds with one stone,' addressing both conditions together."
More about DASH
The DASH (dietary approaches to stop hypertension) diet emphasises the consumption of fruits, vegetables, low-fat dairy items, whole grains, poultry, fish and nuts. It discourages eating foods high in saturated fats, cholesterol, trans fats and sodium, as well as red meats and sweets. The diet is designed to be flexible and balanced, and several studies have confirmed its ability to reduce risks for hypertension and cardiovascular disease.
For more in-depth features, interviews and information, subscribe to Arthritis Digest magazine, a popular title that's published six times a year. Click here for the digital version or tel 0845 643 8470 to order your had copy. You'll know what your doctor is talking about, what new drugs are in the pipeline and be up to date on helpful products.