Combine curcumin with black pepper to improve anti-inflammatory effects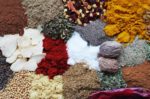 Turmeric, a spice long-recognised for its medicinal properties, has received as much interest from the scientific world as it has from culinary enthusiasts, and now a review of the evidence published in Food highlights its key properties. As the major source of the polyphenol curcumin, its antioxidant and anti-inflammatory effects can help manage some oxidative and inflammatory conditions, including arthritis.
But taking curcumin by itself does not lead to the associated health benefits because of its poor bioavailability. This is due to poor absorption by the body, rapid metabolism, and rapid elimination.
There are several components that can, however, increase bioavailability. For example, piperine (the major active component of black pepper) has been shown to increase bioavailability by 2,000%.
"Curcumin has received worldwide attention for its multiple health benefits, which appear to act primarily through its anti-oxidant and anti-inflammatory mechanisms," the authors of the review explain. "These benefits are best achieved when curcumin is combined with agents such as piperine, which increase its bioavailability significantly.
"Research suggests that curcumin can help in the management of oxidative and inflammatory conditions, metabolic syndrome, arthritis, anxiety, and hyperlipidemia. It may also help in the management of exercise-induced inflammation and muscle soreness, thus enhancing recovery and subsequent performance in active people. In addition, a relatively low dose can provide health benefits for people that do not have diagnosed health conditions."
Click here to read the original research.
For more in-depth features, interviews and information, subscribe to Arthritis Digest magazine, a popular title that's published six times a year. Click here for the digital version or tel 0845 643 8470 to order your had copy. You'll know what your doctor is talking about, what new drugs are in the pipeline and be up to date on helpful products.