Eating crickets may reduce inflammation says pilot study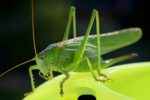 Consuming crickets can help support the growth of beneficial gut bacteria and appears to reduce inflammation in the body, says new research in Scientific Reports.
Crickets contain fibres, for example chitin, that are different from the dietary fibre found in foods such as fruits and vegetables. Some fibre types promote the growth of beneficial bacteria (probiotics) so a team from the US decided to look at if insect fibres might influence the bacteria found in the gastrointestinal tract.
A total of 20 healthy men and women aged 18 years to 48 years ate either a control breakfast or a breakfast containing 25 grams of powdered cricket meal made into muffins and shakes for two weeks. Each participant then ate a normal diet for a two-week "washout period." For the following two weeks, those who started on the cricket diet ate a control breakfast and those who started on the control diet had a cricket breakfast.
The researchers collected blood samples, stool samples and answers to gastrointestinal questionnaires before the study began, immediately after the first two-week diet period and immediately after the second two-week diet period.
Key findings
Levels of TNF-alpha, an inflammatory protein, were found to decrease when people ate the breakfast containing cricket meal;
There was an increase in a metabolic enzyme associated with gut health;
The abundance of beneficial gut bacteria Bifidobacterium animalis, a strain that has been linked to improved gastrointestinal function and other measures of health in studies of a commercially available strain called BB-12, was evident.
The volunteers reported no significant gastrointestinal changes or side effects and the researchers found no evidence of changes to overall microbial composition or changes to gut inflammation.
"This very small study shows that this is something worth looking at in the future when promoting insects as a sustainable food source," says lead researcher Valarie Stull. "There is a lot of interest right now in edible insects. It's gaining traction in Europe and in the US as a sustainable, environmentally friendly protein source compared to traditional livestock."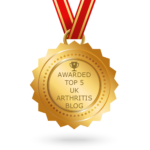 Arthritis Digest Magazine was selected by Feedspot as one of the Top 5 Arthritis Blogs on the internet in 2018.
For more in-depth features, interviews and information, subscribe to Arthritis Digest magazine, a popular title that's published six times a year. Click here for the digital version or tel 0845 643 8470 to order your had copy. You'll know what your doctor is talking about, what new drugs are in the pipeline and be up to date on helpful products.