Experimental bone engineered by researchers may help osteoarthritis patients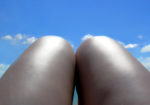 Researchers are developing an artificial bone that could in the future be used to treat osteoarthritis.
The bifunctional composite is designed to compensate defects of both cartilage and bone. Made from hydroxyapatite, gelatine and chitosan, the scaffold imitates the complex structure and functionality of the joint and fills the fractures of the two different tissues.
About 10% of men and 18% of women over 60 years old live with the pain and stiffness of osteoarthritis. Its onset is associated with thinning of the cartilage due to age; on average, people over 55 years feel pain in four joints.
Usual treatment for osteoarthritis is pain or anti-inflammatory medication and ultimately joint replacements. Now the scientists are developing the bi-functional scaffold as an implant that compensates cartilage and bone defects. Dr Ailsa Palaveniene, who is heading up the exciting new approach, comments:
"The new research is aiming to solve most urgent problems of today's ageing society. Although these experiments are just a beginning of a great endeavour, we are happy to be keeping pace with global tendencies."
Arthritis Digest Magazine was selected by Feedspot as one of the Top 5 Arthritis Blogs on the internet in 2018.
For more in-depth features, interviews and information, subscribe to Arthritis Digest magazine, a popular title that's published six times a year. Click here for the digital version or tel 0845 643 8470 to order your had copy. You'll know what your doctor is talking about, what new drugs are in the pipeline and be up to date on helpful products.