FoxO proteins are focus of new osteoarthritis prevention and treatment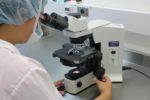 Increasing levels of FoxO proteins may be a new way to prevent and treat osteoarthritis, researchers explain in Translational Medicine.
Osteoarthritis is characterised by a breakdown of cartilage, the tissue that cushions the joints of the bones. The research team previously found that FoxO levels in joint cartilage are reduced in osteoarthritis. Their new findings showed that FoxO deficient mice had:
Degeneration of the joints at a younger age;
More cartilage damage during a treadmill test, and were more likely to develop post-traumatic osteoarthritis due to knee injury;
Abnormalities in the process by which cells get rid of any unwanted or damaged components in order to maintain their health and carry out any repairs (autophagy);
Abnormalities in the processes that protect cells against damage caused by free radicals;
Failed to produce enough of a protein called lubricin, which helps to protect joint cartilage against wear and tear. This was linked to a reduction in healthy cells in the "superficial zone," which is a layer of cartilage in the knee joint.
FoxO proteins therefore seem to regulate the expression of genes that are important for joint health, including those that control inflammation and autophagy.
The absence of FoxO proteins in the joint cartilage leads to an increase in inflammation and a decrease in autophagy, so cells are unable to repair any damage. By increasing FoxO expression in cells taken from people with osteoarthritis, the researchers were able to normalise the expression of genes associated with inflammation and autophagy, and the production of lubricin was restored.
Dr Martin Lotz who is involved in the work comments:
"Drugs that boost the expression and activity of FoxO could be a strategy for preventing and treating osteoarthritis."
For more in-depth features, interviews and information, subscribe to Arthritis Digest magazine, a popular title that's published six times a year. Click here for the digital version or tel 0845 643 8470 to order your had copy. You'll know what your doctor is talking about, what new drugs are in the pipeline and be up to date on helpful products.