Link between chronic pain and glutamate consumption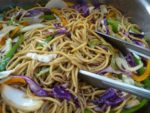 A link between chronic pain and a common flavour enhancer – glutamate – has been revealed in a pilot study published in Nutrition.
Scientists looked at if a dietary intervention could perform as well as or better than over-the-counter medication in relieving chronic pain for 30 people. They tested the effects of removing MSG, increasing water intake, or a combination of both, and compared the results to those found when people took the painkiller acetaminophen.
People who removed MSG from their diets and consumed more water reported significant improvements in their symptoms, as did the group receiving acetaminophen.
Glutamate occurs naturally in some foods such as soy sauce and parmesan cheese, but is more commonly found as a food additive.
In the brain, glutamate is a common neurotransmitter. It can also act as an excitotoxin, over-stimulating and damaging or killing nerve cells. Some research has found that increased consumption of glutamate may enhance chronic pain symptoms, so there is biological cause for scientists to examine the chemical in relation to pain.
"We don't know what exposure is leading to this susceptibility to dietary glutamate, but this pilot study suggests the need for a large-scale clinical trial, since dietary change could be an effective low-cost treatment option," says Kathleen Holton, lead author of the study.
For more in-depth features, interviews and information, subscribe to Arthritis Digest magazine, a popular title that's published six times a year. Click here for the digital version or tel 0845 643 8470 to order your had copy. You'll know what your doctor is talking about, what new drugs are in the pipeline and be up to date on helpful products.