Love hurts: spats with spouse may worsen chronic pain of arthritis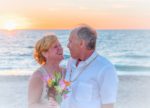 An argument with a spouse may end in hurt feelings, but for people with arthritis, those rows may have physical repercussions too, says research in the Annals of Behavioral Medicine.
A total of 145 people with osteoarthritis in the knee kept daily diaries for 22 days about their mood, how severe their symptoms were, and whether their interactions with their spouse were positive or negative.
Analysis of the diaries showed that the volunteers were in a worse mood on days when they felt more tension than usual with their spouse, which in turn led to greater pain or severity of symptoms. Severity of pain also had an effect on tensions with their spouse the following day. When people had greater pain, they were in a worse mood and had greater tension with their partner the next day.
"This almost starts to suggest a cycle where your marital interactions are more tense, you feel like your symptoms are more severe, and the next day you have more marital tension again," explains Prof Lynn Martire, who led the work.
It is important to learn more about how and why symptoms of chronic disease worsen, particularly as we already know that people with osteoarthritis in their knees who experience greater pain become disabled quicker.
"We usually focus on illness-specific communications, but looking at tension in a marriage isn't tied to the disease, it's not a symptom of the disease itself," Prof Martire says. "It's a measure you can get from any couple. It suggests to me that looking beyond the illness, to improve the overall quality of the relationship might have some impact on health."
For more in-depth features, interviews and information, subscribe to Arthritis Digest magazine, a popular title that's published six times a year. Click here for the digital version or tel 0845 643 8470 to order your had copy. You'll know what your doctor is talking about, what new drugs are in the pipeline and be up to date on helpful products.