Minimally invasive image-guided treatment – GAE – reduces osteoarthritis knee pain and disability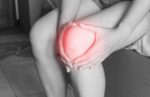 A nonsurgical treatment may improve quality of life of people with knee pain due to osteoarthritis, according to a small study presented at a conference.
Geniculate artery embolization (GAE) is an image-guided treatment that blocks key arteries in the knee to reduce inflammation and pain and improve range of motion. Catheters are inserted through a pinhole-sized incision, blocking the very small arteries or capillaries within the lining of the knee, reducing the inflammation caused by osteoarthritis. The procedure only takes 45–90 minutes to perform.
"A majority of our patients with osteoarthritis of the knee saw significant pain reduction, not only just a few days after the procedure, but a month after as well, making this an accessible treatment for patients looking to improve their quality of life without surgery," explains Dr Sandeep Bagla, lead author of the study. "We are very encouraged by the results and the implications for the millions suffering from this common, yet debilitating condition."
The trial evaluated pain and disability before and one month after the treatment in 13 people with severe osteoarthritis pain. The treatment was successfully completed in all 13 patients, with no adverse events.
Eight people were followed-up. GAE was found to significantly decrease pain, reduce stiffness and increase physical function by around 80%.
"This procedure could have a significant impact in the treatment of osteoarthritis pain as a whole," says Dr Bagla. "The current mainstay of treatment in patients who have arthritis are pain medications, which come with significant side effects and risks. But GAE provides another option for patients struggling with pain and may even allow patients to avoid the painful recovery of knee surgery and the need for the kind of opioid pain medications associated with the dangerous epidemic in the United States."
For more in-depth features, interviews and information, subscribe to Arthritis Digest magazine, a popular title that's published six times a year. Click here for the digital version or tel 0845 643 8470 to order your had copy. You'll know what your doctor is talking about, what new drugs are in the pipeline and be up to date on helpful products.