Pain sensitisation increases the risk of knee pain not going away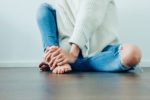 Pain sensitisation – or becoming more sensitive to pain – is an important risk factor for developing persistent knee pain in osteoarthritis, according to a new study in Arthritis & Rheumatology.
Osteoarthritis affects around 302 million adults worldwide and can lead to chronic disability, often in the knee joint. A number of factors other than knee structure may contribute to pain in people with osteoarthritis.
"Understanding the factors that contribute to the development of persistent pain is critical to improving our ability to prevent its onset and the transition to more persistent pain," explains Dr Lisa Carlesso, who led the research.
She and her team looked at data from 852 adults (aged 50–79 years) with or at risk of knee osteoarthritis but who were free of persistent knee pain at the start of the study. They were tracked for two years.
The researchers found that the volunteers had varying degrees of pain sensitisation and were able to put them into groups which they called pain susceptibility phenotypes.
The pain susceptibility phenotypes with the highest degree of sensitisation had the highest risk of developing persistent knee pain. Being female, of non-Caucasian race and aged over 65 years old were predictors of being a member of the pain susceptibility phenotypes with the highest degree of sensitisation.
"Our findings suggest that therapy aimed at prevention or improvement of pain sensitization may be a novel approach to preventing persistent knee pain," says Prof Tuhina Neogi, who was involved in the work. "Preventing pain is crucial to improving quality of life and function in patients who suffer from osteoarthritis."
Click here to read the original findings.
For more in-depth features, interviews and information, subscribe to Arthritis Digest magazine, a popular title that's published six times a year. Click here for the digital version or tel 0845 643 8470 to order your had copy. You'll know what your doctor is talking about, what new drugs are in the pipeline and be up to date on helpful products.