Physiotherapy versus acupuncture in fibromyalgia – new findings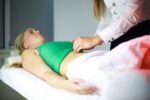 Pain, daily function and quality of life of people with fibromyalgia were all under the spotlight in a comparison of acupuncture and physiotherapy that is published in The Journal of Alternative and Complementary Medicine.
A total of 44 women aged 18–70 years who had been newly diagnosed with fibromyalgia were included in the study. They had chronic widespread musculoskeletal pain symptoms, normal blood tests and did not have neurologic, inflammatory, endocrinologic and other chronic diseases, psychiatric illness, use of antidepressants or painkillers.
Half of the women received 15 sessions of hotpack, transcutaneous electrical nerve stimulation (TENS) and ultrasound to the tender points of the cervical and upper back regions. The other half received 10 sessions of acupuncture aimed at treating pain of the neck, upper and lower back regions.
All pain scores and measures of quality of life improved in both groups and there was no difference between the groups.
"Physical therapy modalities and acupuncture can be effectively used in the treatment of fibromyalgia," the research group comments. "Even though one treatment option was not found to be more beneficial than the other, longer post-treatment follow-up may help determine the superior treatment option."
Click here to read the original findings.
Arthritis Digest Magazine was selected by Feedspot as one of the Top 5 Arthritis Blogs on the internet in 2018.
For more in-depth features, interviews and information, subscribe to Arthritis Digest magazine, a popular title that's published six times a year. Click here for the digital version or tel 0845 643 8470 to order your had copy. You'll know what your doctor is talking about, what new drugs are in the pipeline and be up to date on helpful products.