Protein solution kit for treatment of knee osteoarthritis has positive results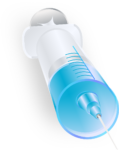 A new protein solution kit that uses an individual's own cells helps reduce some symptoms of knee osteoarthritis and is safe, according to a pilot study published in the American Journal of Sports Medicine.
Investigators prepared the autologous protein solution with the nStride kit, which concentrates inflammatory cytokines and growth factors from a sample of blood from the patient. The patient then receives the solution via an injection into the knee joint.
Researchers tested the product on people with knee osteoarthritis pain; 31 people received nStride autologous protein solution and 15 people received an injection of saline solution.
A year later, people treated with nStride autologous protein solution had a 65% improvement in measures of pain, stiffness and physical function compared to 41% of those treated with the saline solution. Other scores showed a 49% improvement in pain scores in people treated with the autologous protein solution versus a 13% improvement in those treated with saline.
There were no serious negative side effects associated with the treatment.
"This trial is very important for the confirmation of nStride safety and efficacy and open the gate for the big randomized controlled trial comparing [nStride] to hyaluronic acid, actually in progress," explains Dr Elizaveta Kon, one of the scientists involved in the project.
The nStride autologous protein solution kit is currently marketed in Europe and Japan but is not yet available in the US.
Click here to read more.
For more in-depth features, interviews and information, subscribe to Arthritis Digest magazine, a popular title that's published six times a year. Click here for the digital version or tel 0845 643 8470 to order your had copy. You'll know what your doctor is talking about, what new drugs are in the pipeline and be up to date on helpful products.