Strawberries lower levels of TNF and lipid peroxides in adults with knee osteoarthritis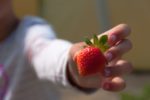 Knee osteoarthritis is increasingly prevalent in obese people and there are only a few non-surgical ways to tackle the problem. A research group recently reported that strawberry supplementation can take on the pain and inflammation experienced by people with knee osteoarthritis, and now the same team has done more work in the area, publishing their work in Food and Function.
They did a small trial on the effects of freeze-dried strawberries on obesity-related hormones, biomarkers of inflammation and oxidative stress. A total of 17 people were given daily strawberry supplements or a placebo matched for calories and fibre for two 12-week intervention periods, separated by a two-week washout phase.
High-sensitivity TNF-α and the soluble tumor necrosis factor receptor were significantly decreased after strawberry consumption, indicating a decrease in inflammation. Among serum biomarkers of oxidative stress (which is the level of oxidative damage in cells), lipid peroxidation was also reduced.
"Strawberries lowered TNF-α, and lipid peroxidation products in obese adults with knee osteoarthritis," the authors explain. "Since, they also mitigate pain, these findings merit further investigation in larger trials."
Click here to read the original research: https://www.ncbi.nlm.nih.gov/pubmed/30382270
Arthritis Digest Magazine was selected by Feedspot as one of the Top 5 Arthritis Blogs on the internet in 2018.
For more in-depth features, interviews and information, subscribe to Arthritis Digest magazine, a popular title that's published six times a year. Click here for the digital version or tel 0845 643 8470 to order your had copy. You'll know what your doctor is talking about, what new drugs are in the pipeline and be up to date on helpful products.