Stressed out interferons could be key to alternative lupus treatment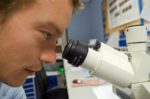 A previously unknown mechanism involved in the immune response may one day provide an alternative treatment for people with lupus, researchers report in Science Signaling.
Lupus is an autoimmune disease in which the immune system is unable to distinguish the difference between foreign invaders, such as viruses and bacteria, from its own healthy body tissue, so attacks itself.
The disease is marked by high levels of type I interferon, a substance normally secreted by immune cells in response to viral infections. The origin of the interferon signature in lupus has remained a mystery for years. But a team has now found a protein that normally signals an immune system pathway during viral infections is spontaneously activated in people with lupus, even in the absence of viral infection.
"Typically, this protein – mitochondrial antiviral signaling or MAVS – is responsible for recognizing viral infections," explains Dr Iwona Buskewicz, who is involved in the work.
Oxidative stress in cells can bring on the clustering of MAVS at the mitochondria (the energy-producing organelles in each cell) and drive interferon production in the absence of viruses. Introduction of an antioxidant reversed the clustering of MAVS and prevented the production of interferon.
The research group suggests that in people who have lupus, environmental stress may contribute to production of type I interferon, which normally helps regulate immune system activity.
MAVS could be targeted with antioxidants directed to the mitochondria.
"We need to develop a drug that can revive the mitochondria," says Dr Buskewicz. "A more focused antioxidant therapy targeting the particular organelle may have more efficacy."
For more in-depth features, interviews and information, subscribe to Arthritis Digest magazine, a popular title that's published six times a year. Click here for the digital version or tel 0845 643 8470 to order your had copy. You'll know what your doctor is talking about, what new drugs are in the pipeline and be up to date on helpful products.