Tramadol may be linked to higher death rates in older people with osteoarthritis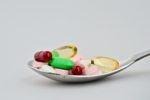 An initial prescription of tramadol for osteoarthritis in people aged 50 years and older is associated with increased risk of death within a year compared to some other pain relief options, says a large new study in JAMA. More research is needed to find out if the association is causal.
Tramadol is a strong painkiller used to treat moderate to severe pain when weaker painkillers no longer work. It is available on prescription as tablets, capsules and liquid drops and can be given by injection in hospital.
"Prescriptions of tramadol have been increasing rapidly around the world, making tramadol one of the most widely used weak opioids," the research group outlines. "However, there is paucity of information on its safety profile, eg risk of all-cause mortality."
The group looked at data from 88,902 people in the UK aged over 50 years with osteoarthritis, and found that an initial prescription of tramadol was associated with a significantly increased risk of mortality over one year compared with naproxen, diclofenac, celecoxib and etoricoxib, but not compared with codeine.
"Tramadol prescription may be associated with increased all-cause mortality compared with commonly prescribed nonsteroidal anti-inflammatory drugs among patients with osteoarthritis, but further research is needed to determine if this relationship is causal," the group concludes. "This study may point to a need to consider tramadol's potentially increased risk of all-cause mortality in several osteoarthritis guidelines as well as in clinical practice."
Click here to read the original research. 
Arthritis Digest Magazine was selected by Feedspot as one of the Top 5 Arthritis Blogs on the internet in 2018.
For more in-depth features, interviews and information, subscribe to Arthritis Digest magazine, a popular title that's published six times a year. Click here for the digital version or tel 0845 643 8470 to order your had copy. You'll know what your doctor is talking about, what new drugs are in the pipeline and be up to date on helpful products.