Weight loss through exercise alone does not protect knees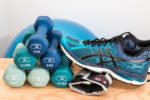 Obese people who lose a lot of weight can slow the degeneration of their knee cartilage, but only if they lose weight through diet and exercise or diet alone, according to a new study.
We know that obesity is a major risk factor for osteoarthritis. The knee joint is a common site of osteoarthritis and in many people the condition progresses until total knee replacement is necessary.
Cartilage loss cannot be reversed so it is important for people at risk of osteoarthritis or with early signs of the disease to slow the degeneration of cartilage. Although weight loss can slow down cartilage degeneration in overweight people, experts didn't know if the method used to lose weight made a difference.
So a team looked at cartilage degeneration and joint abnormalities in 760 overweight and obese people for eight years. All of the volunteers had mild to moderate osteoarthritis or risk factors for the disease.
One group of 380 people lost no weight; the other 380 people lost weight via diet and exercise; diet alone; or exercise alone.
MRI scans showed that after eight years, cartilage degeneration was lower in the weight loss group, compared to the control group. But this finding was only present in people who lost weight through diet and exercise or diet alone. Weight loss through exercise alone did not result in less cartilage degeneration.
"These results add to the hypothesis that solely exercise as a regimen in order to lose weight in overweight and obese adults may not be as beneficial to the knee joint as weight loss regimens involving diet," concludes Dr Alexandra Gersing.
For more in-depth features, interviews and information, subscribe to Arthritis Digest magazine, a popular title that's published six times a year. Click here for the digital version or tel 0845 643 8470 to order your had copy. You'll know what your doctor is talking about, what new drugs are in the pipeline and be up to date on helpful products.