The possibility of an osteoporosis diagnosis led celebrity chef, Lesley Waters, to change the way she lives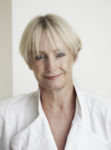 A familiar face on This Morning and Ready Steady Cook, when not on our TV screens Lesley Waters runs a cookery school from her home in Dorset. Life is extremely busy. As well as having a family and a cookery school, Lesley writes recipe books, has an online shop and her home is a site for wedding venues. Despite this hive of activity, Lesley has made time to get involved in an osteoporosis support group.
"I have been patron of the Yeovil and District Osteoporosis Support Group for five years," she explains. "Ironically, only a couple of months after agreeing to the position, my mother who was 75 years old at the time, was diagnosed with osteoporosis. And since then – with the benefit of hindsight – our family has realised that it is likely that my paternal grandmother also had the condition."
Lesley is due to have a bone density scan to assess her risk of osteoporosis. Meanwhile, she's made a few changes to the way she lives.
"Exercise improves bone strength and as a qualified fitness instructor, I have a good level of knowledge in this area," she says. "But recently I have started to take exercise in a different way. I used to run for one hour three times a week, but I now find that weight-bearing exercises for 30 minutes five times a week suits me better.
"Exercise gets the blood flowing around the body and the muscles working, it's good for healthy bones and joints, relieves stress and depression, keeps weight in check and releases feel-good endorphins… the benefits are endless!"
Lesley and her family live on the Dorset-Somerset border.
"I was out walking one day and got talking to a lady who it transpired was in her eighties (although you'd never have thought it). 'Use it or lose it' was her wonderful advice, and I've never forgotten it."
Of course it can be easier said than done. For those of us living in chronic pain, even just thinking about the logistics of an exercise regime can be overwhelming.
"Find a class that specialises in your particular situation that is led by an instructor who has good background knowledge," Lesley recommends. "Plenty of options are available today. Even if you only manage a tiny amount, the next time you go, you'll do a tiny bit more and after a while you'll find it makes a difference to many aspects of your life."
The other change that Lesley has made is to her diet.
"I now eat and drink full fat versions of milk and yoghurt and make sure I take in a lot of calcium," she outlines. "I believe that it's all about balance, so I eat a variety of fresh fruit and vegetables, meat, fish, cheese and carbohydrate."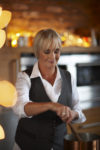 A wonderful variety of ingredients are on offer in Lesley's cookery school too – and not just the edible kind.
"It's a relaxed place to come, either on your own or with a friend, that caters for all levels of culinary skill and physical ability," Lesley says. "Guests can do as little or as much cooking as they can manage, either seated or standing."
Lesley knows the value of keeping busy, and has her mother as a role model.
"For the first few years after her diagnosis my mother was on various different drugs, but for the last three years she has been having an injection every six months, which for her seems to be a better way of managing her osteoporosis," Lesley says. "Although she is often has a lot of pain in her neck and hands, she still makes herself go walking every day and loves to sew, even though it hurts. I admire her so much."
Further information
For more on Lesley Waters and her cookery school visit lesleywaters.com or tel 0844 800 4633.
For more on osteoporosis contact The National Osteoporosis Society. Visit nos.org.uk or tel 0808 800 0035.
For more in-depth features, interviews and information, subscribe to Arthritis Digest magazine, a popular title that's published six times a year. Click here for the digital version or tel 0845 643 8470 to order your had copy. You'll know what your doctor is talking about, what new drugs are in the pipeline and be up to date on helpful products.