A quick diagnosis of knee osteoarthritis was followed by a lengthy wait for surgery, actor Peter Egan explains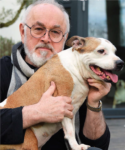 Success in the acting business tends to hinge on maintaining physical health and in November 2013, when his right knee showed sudden signs of deterioration, Peter Egan was in high demand.
"Feast or famine is a fairly accurate description of life in the acting profession," he laughs. "And five years ago I was enjoying a feast, filming Downton Abbey, appearing in Other Desert Cities at The Old Vic, and starring in detective drama Grantchester."
But while walking his dogs on London's Hampstead Heath, Peter experienced a sharp pain in the back of his right knee, quickly followed by swelling.
"My immediate thought was that I'd pulled a muscle," he remembers. "I booked in with a physiotherapist and an osteopath, who both confirmed it was more serious. My GP referred me to a knee specialist, and an MRI scan showed I had osteoarthritis and needed a partial knee replacement.
Despite the speed of diagnosis and excellent level of care, Peter was so busy that he couldn't take the time out to have surgery. Back on stage and set, he worked hard to disguise his increasing limp, relying on a knee support and painkillers.
"My agent said I'd developed a US style of walking as I was having to use my upper body more than my lower body," he says.
Private health insurance meant Peter could book his surgery to fit around his demanding work commitments, so it wasn't until August 2014 that he went into hospital.
Recovery
"The recovery process was harder than anything else," Peter says. "The young don't tend to worry as much about healing but as I grow older, I feel more vulnerable. I worried that at 67 years old my body wouldn't be strong enough to deal with the recovery process. I was concerned about my stamina and ability to heal.
"I was frightened of infection too, but I put myself in the hands of the statistics and got on with it and my wife monitored me closely."
Peter was committed to the rehabilitation process and rigorously followed the 10 stages outlined by his physiotherapist. It wasn't long before he was walking his dogs again and he began rehearsing for his next appearance only seven weeks after the operation… too soon as it turned out.
"The physiotherapist I saw for three months after the surgery said I'd become active too soon," he says. "Instead of the 16-week recovery I was hoping for, it was around eight months before the flexibility I wanted had fully returned. Thankfully I don't have any pain now, my movement isn't restricted and I can kick the ball as hard as ever."
Thanks to his successful surgery and good recovery, Peter enjoyed working with John Cleese in Hold The Sunset and then worked on the third series of ITV drama Unforgotten.
Lifestyle
Peter monitors what he eats very closely and has been a vegan for over two years.
"Vegans are imaginative people who choose a creative way of living over destruction," he highlights. "Animal welfare is a major focus of my life and I travel around the world to speak to groups and societies. I'm shocked and appalled by the huge and intense cruelty that we impose on every species in the world."
Aged 71 years old, Peter keeps close tabs on his health and has regular check-ups. "I respect my body, monitor it and don't ignore hints where there may be problems," he says. "Reiki, reflexology and acupuncture are great additions to mainstream medicine and I wish I could have dealt with my knee osteoarthritis using acupuncture alone.
"I do have an addictive personality. I smoked until I was 50 years old. Then I gave up spirits and most recently, white Burgundy wine which I adored. Now I only have the occasional beer.
"When we're young we seem to burn the toxins away, but as we age and the body starts slowing down the toxins do more damage. It's better to not give them the opportunity. I know I couldn't work with my current levels of energy and commitment if my unhealthy habits had continued."
Photo copyright: Maria Slough Photography
Read more celebrity interviews here.
First published in Arthritis Digest 2018.