Access social support networks to improve bone health suggests new research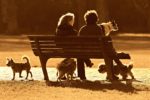 Bone health may be affected by poor quality social relationships, suggests a new study in the Journal of Epidemiology and Community Health, but specialists from the Royal Osteoporosis Society say there isn't enough evidence to be sure this is true.
The study measured bone density and psychosocial stress – a type of stress caused by any type of social interaction – in more than 11,000 postmenopausal women in the US.
Experts followed the participants for six years and found that women with high levels of psychosocial stress, as self-reported by questionnaire, were more likely to have lower bone density. The researchers suggested this may be due to stress-related hormone changes affecting the body's process of making and repairing bone tissue.
But Royal Osteoporosis Society clinical adviser Prof Richard Eastell, cautions that the results are not statistically significant and don't prove that stress causes bone loss.
"There may well be an association between stress and bone loss, but this doesn't prove one causes the other," he explains. "When people are stressed, they may smoke more, drink more alcohol and exercise less. The researchers have thought about some of these factors that could be the cause of lower bone density, but there may be others. We shouldn't put much weight on these findings."
The study concludes with a recommendation that postmenopausal women may benefit from having access to better social support networks… which the Royal Osteoporosis Society agrees is a sensible suggestion.
Arthritis Digest Magazine was selected by Feedspot as one of the Top 5 Arthritis Blogs on the internet in 2018.
For more in-depth features, interviews and information, subscribe to Arthritis Digest magazine, a popular title that's published six times a year. Click here for the digital version or tel 0845 643 8470 to order your had copy. You'll know what your doctor is talking about, what new drugs are in the pipeline and be up to date on helpful products.