Acupuncture reduces pain of some types of arthritis says latest research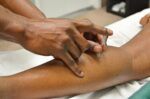 The use of acupuncture may provide relief for knee osteoarthritis, lower back pain and fibromyalgia, says a review of the evidence in Current Rheumatology Reports.
Chronic musculoskeletal pain due to osteoarthritis, rheumatoid arthritis, fibromyalgia and chronic low back pain is the most common cause of disability around the world and there is no effective solution. Acupuncture is popular, but whether it actually works remains controversial.
New findings
Now a new analysis of the data published in the last five years found that acupuncture:
Has short-term pain relief benefits for people with knee osteoarthritis and chronic low back pain;
May have a beneficial role for people with fibromyalgia;
Is a safe and reasonable referral option;
May not be as helpful for hip osteoarthritis and rheumatoid arthritis.
"The majority of studies concluded the superiority of short-term [pain relieving] effects over various controls and suggested that acupuncture may be efficacious for chronic musculoskeletal pain," the reviewers conclude.
Click here to read the original findings.
Interested in acupuncture and arthritis? So are we! Click here for a full review.
Arthritis Digest Magazine is selected by Feedspot as one of the Top 5 Arthritis Blogs in 2020.
For more in-depth features, interviews and information, subscribe to Arthritis Digest magazine, a popular title that's published six times a year. Click here for the digital version or tel 01892 354087 to order your hard copy. You'll know what your doctor is talking about, what new drugs are in the pipeline and be up to date on helpful products.