Add micronutrients to the diet to reduce inflammatory arthritis symptoms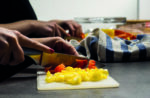 Micronutrients and polyphenols seem to reduce inflammation and symptoms of arthritis, according to a review of the evidence in Current Rheumatology Reports.
Scientific research has increasingly focused on investigating anti-inflammatory micronutrients present in fruits, vegetables, spices, seeds, tea and wine.
Now a team has set out to look at the anti-inflammatory effect of polyphenols (nutrients in plants) and other micronutrients.
The team found "convincing evidence of the anti-inflammatory effect of several micronutrients in arthritis symptoms and inflammation" and suggest that "the addition of these nutrients to day-to-day eating habits could potentially change the natural history of inflammatory arthritis."
"Some foods rich in several of the anti-inflammatory nutrients would be easy to introduce in their current diet, like fruits, vegetables, spices, and complex food like quinoa, amaranth or chia seeds, which are rich in many different polyphenols. We recommend that patients add a daily cup of green tea, and include different spices like curcumin, ginger, pepper, or cinnamon in their daily cooking. We suggest an easy way to have fruits and vegetables is a green morning smoothie with spinach, berries, or enzymatic fruits like papaya, mango, and pineapple."
Interested in food and arthritis? Click here for more!
Arthritis Digest Magazine is selected by Feedspot as one of the Top 5 Arthritis Blogs in 2020.
For more in-depth features, interviews and information, subscribe to Arthritis Digest magazine, a popular title that's published six times a year. Click here for the digital version or tel 01892 354087 to order your hard copy. You'll know what your doctor is talking about, what new drugs are in the pipeline and be up to date on helpful products.