Adults with inflammatory arthritis have similar risk of hospital admission as other COVID-19 patients says new research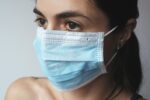 It has been a concern that people with arthritis may be at increased risk of COVID-19 complications, but a new pair of reports suggests that the risk is the same for adults with and without arthritis.
One of the studies does imply that COVID‐19 outcomes are slightly worse in people receiving glucocorticoids but not in patients on maintenance anti‐cytokine therapy.
But in general, the two studies (published in Arthritis & Rheumatology) show that people with rheumatoid, psoriatic and spondyloarthritis are not at greater risk of hospitalisation from COVID-19 due to medications used to dampen their altered immune system. And the same goes for those with systemic lupus erythematosus.
"Our findings represent the largest of its kind for American patients with lupus or arthritis and COVID-19, and should reassure most patients, especially those on immunosuppressant therapy, that they are at no greater risk of having to be admitted to hospital from COVID-19 than other lupus or arthritis patients," says Dr Ruth Fernandez-Ruiz, who is involved in the study.
"People with lupus or inflammatory arthritis have the same risk factors for getting seriously ill from COVID-19 as people without these disorders."
The shared risk factors, which overall more than double people's risk of hospitalization from COVID-19, are having multiple underlying health conditions, such as obesity, hypertension and diabetes.
Read more about the original research about COVID-19 and inflammatory arthritis and lupus.
Arthritis Digest Magazine is selected by Feedspot as one of the Top 5 Arthritis Blogs in 2020.
For more in-depth features, interviews and information, subscribe to Arthritis Digest magazine, a popular title that's published six times a year. Click here for the digital version or tel 01892 354087 to order your hard copy. You'll know what your doctor is talking about, what new drugs are in the pipeline and be up to date on helpful products.