Arthritis advocacy groups hold briefing in US to address "Silent Enemy" of arthritis in the military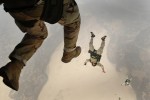 Arthritis is the top cause of disability among US military veterans and the second leading cause of medical discharge from the US Army, says leading advocacy groups at a meeting to educate policy makers about the prevalence of arthritis in the military.

The Congressional briefing held by the American College of Rheumatology and representatives from the Arthritis Foundation and American Osteopathic Association, was held to urge Congressional leaders to create a $20 million arthritis programme to aid treatment and prevention efforts.
At the briefing it was said that one in three veterans is diagnosed with arthritis, compared to one in five members of the general US population.
Despite this prevalence of arthritis in the military, there is no current dedicated arthritis medical research budget at the US Department of Defense, to study prevention strategies and treatment efforts for these people at high risk.
"One of the occupational hazards of military service is that it increases the risk of high-impact injuries that cause joint and tissue damage," says Dr Colin Edgerton of the American College of Rheumatologist and a practicing rheumatologist who is a US Army combat veteran and former Army physician. "Even the wear and tear from non-combat and basic training activities – like carrying a 100-plus pound pack around all day, or jumping from a truck with heavy gear on – can result in injuries that affect you for the rest of your life."
Dr Edgerton goes on to note that military culture, one which prides itself on toughness and a grin-and-bear-it attitude, makes arthritis prevention, diagnosis and treatment more difficult for service members. "Modifying activity can go a long way in preventing long-term damage, but it is generally frowned upon to slack off on physical activities due to injury. There is a 'window of opportunity' for damaged joint tissue to heal on its own, but most service members miss this window due to the nature of the job.
"The military research ecosystem and patient population provide unique opportunities to conduct clinical trials, test prevention strategies, and explore risk factors associated with arthritis," says Edgerton. "Pursuing these studies requires a long-term, stable funding source. A dedicated arthritis research program at the Department of Defense would help serve the research needs of the military patient population and could lead to discoveries that benefit all those living with arthritis."
For more in-depth features, interviews and information, subscribe to Arthritis Digest magazine, a popular title that's published six times a year. Click here for the digital version or tel 0845 643 8470 to order your had copy. You'll know what your doctor is talking about, what new drugs are in the pipeline and be up to date on helpful products.