Arthritis pain in his back does not halter Bob Champion's ethos of thinking positive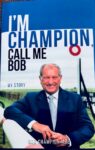 Bob Champion, whose distinguished career as a jockey has hit the headlines many times over the last 50 decades, recently revealed his battle with arthritis on TV show, The Real Marigold Hotel.
This is not the first time that 70-year-old Bob has had major health issues to contend with as at the peak of his career in 1979 he was diagnosed with testicular cancer. But just two years after fighting the disease, Bob went on to win the Grand National on horse Aldaniti. He was subsequently given the BBC Sports Personality of the Year Team Award was appointed an MBE in the Queen's Birthday Honours in 1982.
As well as taking on cancer, Bob's body has – unsurprisingly – had a rough ride throughout his career as a jockey.
"Since retiring from riding and training horses, I seem to have developed arthritis in my back, hips and shoulders, which I assume is because I have hit the ground (literally) a few times, encountered a few breaks and generally battered my joints," he says. "But I haven't been formally diagnosed by a doctor, and have been lucky enough to avoid the need for joint replacements so far."
Self management
Instead, Bob makes regular visits to an osteopath and turns to massage to reduce his back pain symptoms.
"I go to the osteopath every few weeks, alternating with massage, both of which alleviate pain and loosen my muscles," he says. "Some days I do have to turn to painkillers, however. An American vet once gave me acupuncture that was brilliant and lasted for three weeks. But I am yet to find an acupuncturist in my area who I feel confident in."
Like many people with back arthritis, Bob finds that the weather has a fairly major impact on his pain and stiffness.
"I feel better in sunny and warm weather and struggle more during the cold and damp months," he outlines. "I usually have a sauna every day and feel like a new man for 30 minutes afterwards. No foods appear to particularly trigger a bout of stiffness, but too much caffeine and fizzy drinks don't do me any favours."
Neither does the amount of time that Bob spends in the car, driving to racecourses, events he attend as an after dinner speaker and working at the Bob Champion Cancer Trust, which he set up after his recovery.
"Driving as much as I do is boring and I get tempted by the sugary offerings next to the till when I pay for petrol," he says. "Then when I get out of the car at my destination my body hurts tremendously until I walk around a bit and it begins to ease up again. I know that losing some weight would improve my arthritis symptoms and overall health."
Bob's journey with cancer means that he knows it is important to look after his body and think positive.
"To people who live in chronic pain, I would say… in addition to taking the drugs you have been prescribed, try various routes to improved health until you find one that works for you. For me it is an osteopath but for you it could be a different type of exercise, a complementary therapy or a support group. Do what you feel comfortable with and never give up trying."
Interview was first published in 2018.
Click here for more celebrity interviews.