Become an active player in your health with Thuasne's range of arthritis products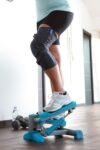 Thuasne creates and distributes solutions for people with arthritis, sprains, pain relief and other conditions, allowing them to become active players in their own health. Check out its brilliant selection of products for people with arthritis and other painful conditions, who need support and relief for pain and stiffness in the knee, back, ankle and/or wrist.
Orthopaedic specialists and trusted NHS supplier, save time and order direct from Thuasne, visit www.thuasne-store.co.uk or tel 01892 481620
PS Order in April or May and enjoy a 20% discount (code web20 in the shopping basket area).