Berry good news! Blueberry compound could treat inflammatory disorders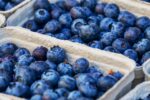 A compound found in blueberries – pterostilbene – is under the spotlight as a potential treatment for inflammatory bowel disease, with wide implications for other inflammatory diseases, the scientists involved claim in a leading academic journal.
Some plants and their products contain bioactive ingredients that can help reduce human diseases. A team of researchers from Tokyo University of Science has been looking at exactly this, seeking out novel active components in foods and establishing their effects on the body.
New compound: pterostilbene
The team recently identified a compound called pterostilbene that has strong immunosuppressive properties, making it a potential therapeutic option for chronic inflammatory diseases.
Pterostilbene is similar to resveratrol, another compound known to have important medicinal effects, which is found in the skin of raspberries, mulberries grapes and peanuts as well as blueberries.
Laboratory work confirmed that pterostilbene is an extremely promising anti-inflammatory agent for fighting inflammatory bowel disease. Vitally, it is easily absorbed by the body, making it an ideal drug candidate.
"For disease prevention, it is important to identify the beneficial components in foods and to understand the underlying mechanism by which immune responses and homeostasis are modulated in body," highlights Dr Takuya Yashiro, who is involved in the research. "Our findings showed that pterostilbene possesses a strong immunosuppressive property, paving the way for a new, natural treatment for inflammatory bowel disease."
Interested in food news relevant to arthritis? Click here for more research.
Arthritis Digest Magazine is selected by Feedspot as one of the Top 5 Arthritis Blogs in 2020.
For more in-depth features, interviews and information, subscribe to Arthritis Digest magazine, a popular title that's published six times a year. Click here for the digital version or tel 01892 354087 to order your hard copy. You'll know what your doctor is talking about, what new drugs are in the pipeline and be up to date on helpful products.