Body and mind are connected and we can't treat one without treating the other – screen for depression and anxiety before hip surgery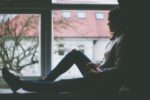 Young people with hip pain should be screened for depression or anxiety before hip surgery is considered, experts recommend after their research shows that pre-operative depression and anxiety is linked to worse outcomes after surgery.
The team analysed data from 12 smaller studies involving over 5,600 people aged 29–41 years old who had arthroscopic surgery to correct hip problems, and outline their findings in the American Journal of Sports Medicine.
Each study showed that people with anxiety and depression before surgery were statistically less likely to have good outcomes after their operations.
"There are people who may have anxiety or depression, who then develop a hip problem, and that can make things worse because rather than having the mindset that the hip problem is a small, fixable issue, their extra worry actually can increase the impact of the hip problem on their lives," explains Dr Abby Cheng who led the work. "Or sometimes people who have hip problems may then develop new depressive or anxious symptoms because their hip issues are preventing them from doing things they want and need to do. That combination of things can play a role in making each of the problems worse.
"We need to start screening for symptoms of psychological impairment, and we need to be able to offer our high-risk patients easier access to behavioral health professionals. There's an understanding, for example, that back pain is associated with stress, but we're just now starting to examine the relationships between anxiety and hip pain, as well as shoulder pain or pain in other parts of the body. The more we look at it, the more it becomes clear that the mind and the body are connected, and we can't separate them and treat one without treating the other."
Arthritis Digest Magazine was selected by Feedspot as one of the Top 5 Arthritis Blogs on the internet in 2019.
For more in-depth features, interviews and information, subscribe to Arthritis Digest magazine, a popular title that's published six times a year. Click here for the digital version or tel 0845 643 8470 to order your had copy. You'll know what your doctor is talking about, what new drugs are in the pipeline and be up to date on helpful products.