Bookings now open for the RCN Rheumatology Nursing Workshop on 28 June 2019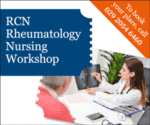 Brought to you by the RCN Rheumatology Forum, the clinically focused Rheumatology Nursing Workshop is your opportunity to get the latest updates and developments to advance your professional practice and deliver excellent patient care.
When? 28 June 2019 10:30 – 15:15
Where? Royal College of Nursing, 20 Cavendish Square, Marylebone, London, W1G 0RN
Are you an experienced or aspiring rheumatology nurse specialist wanting to stay ahead of the curve?
At the RCN Rheumatology Nursing Workshop you will hear from leading experts on a range of topics including emerging drug therapies, vasculitis and the impact on patients with inflammatory arthritis, managing telephone advice lines as well as strategies to demonstrate your value as a rheumatology nurse specialist.
For an unmissable opportunity to network and share best practice with like-mind professionals book your place today.
Cost? RCN members: £50 + VAT; Non-members £75 + VAT
Click here for more information and a booking form