Can chocolate improve bone health?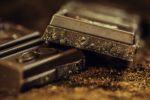 Chocolate may not have an effect on bone loss for older women after all but it does positively impact on bone growth of teenagers, says a review of the evidence in Nutrients.
We know that bone loss results in increased risk for osteoporosis. And dark chocolate is a rich source of antioxidant and anti-inflammatory flavonoids and dietary minerals with the potential to benefit bone health. But other chocolate constituents such as cocoa butter, sugar and methylxanthines may be detrimental to bone; white and milk chocolate are high in sugar and low in flavonoids and most minerals.
Looking at the evidence a research team found that eating moderate amounts of chocolate resulted in no bone effects for post-menopausal women. But adolescents consuming chocolate had greater longitudinal bone growth.
"Based on flavonoid and mineral content, unsweetened cocoa powder appeared to be the best option followed by dark chocolate with higher cocoa content in terms of supporting and preserving bone health," the team involved says. "Determining dietary recommendations for chocolate consumption relative to bone health is important because of the growing popularity of chocolate, particularly dark chocolate, and an expected increase in consumption owing to suggestions of health benefits against various degenerative diseases."
Arthritis Digest Magazine was selected by Feedspot as one of the Top 5 Arthritis Blogs on the internet in 2018.
For more in-depth features, interviews and information, subscribe to Arthritis Digest magazine, a popular title that's published six times a year. Click here for the digital version or tel 0845 643 8470 to order your had copy. You'll know what your doctor is talking about, what new drugs are in the pipeline and be up to date on helpful products.