Interviews
Best known for his success in the wrestling arena, Sangram Singh had a difficult start in life due to a diagnosis of arthritis as a child. He shares his story exclusively with Iona Walton from Arthritis Digest magazine
I was diagnosed with rheumatoid arthritis when just three years old and unfortunately did not respond well to medication. Back then in India there were fewer facilities for physiotherapy so it was a hard time and I spent eight years in a wheelchair. Continue reading →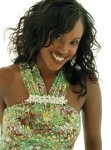 Singer Kelle Bryan was at the pinnacle of her pop star career when she was suddenly struck down with lupus. Her band, Eternal had sold over ten million records, notched up numerous awards, toured the world and even performed for Pope Jean Paul II.
But when Kelle was only 23 years old, her flu-like symptoms had become so bad that she was unable to walk. Finally seeking a second opinion, Kelle was told she had lupus in 1998. Continue reading →
Martina Cole's page-turning crime novels have made her one of the most successful British female novelists of all time. Gritty plotlines tackle London's underworld and have achieved sales of over ten million books; Martina's twentieth book – Revenge – looks set to storm bestseller lists around the world this Autumn. 
Less well-known is that Martina has a daily battle with rheumatoid arthritis, triggered when she broke her arms after falling off a swing as a child, and diagnosed when she was 21 years old. At the time her son, Christopher, was a baby and Martina had three jobs… and was a long way from the comfort of the fame she has since acquired. Continue reading →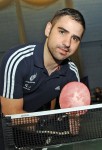 Paul Karabardak competed for ParalympicsGB in table tennis for the first time in Beijing 2008, made his second appearance in London 2012 and is getting ready for Rio in 2016.
Now aged 28 years old, Paul was born and bred in Wales and had a stroke as a boy, which led to left-sided hemiplegia. He started playing table tennis at his local youth club in 1997, little realising his potential as a champion, but within four years he was competing at a serious level. Continue reading →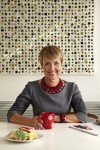 Ever since How Clean Is Your House swept onto our screens in 2003, Aggie MacKenzie has been a household name. In only 10 years she has appeared in around 30 TV shows, written five books and is a regular columnist in Good Housekeeping, Sainsbury's magazine, Best and Delicious.
Perhaps it is her "Highland stock" that holds her back from complaining about being diagnosed with rheumatoid arthritis when in her 20s.
"I still remember the sense of devastation when the doctor told me," she says. "Pain in my hands had made me go – and a blood test confirmed my suspicions." Continue reading →