Combination of patellar mobilisation therapy and exercises help reduce osteoarthritis knee pain – new study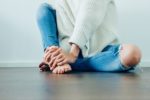 Special exercises and patellar mobilisation therapy seem to decrease pain for people with knee osteoarthritis, says a study from the Prince of Wales Hospital, Hong Kong.
A total of 208 people with knee osteoarthritis were split into groups. An intervention group was were asked to lie on their side, with the knee supported and slightly flexed, allowing the kneecap to glide vertically from side to side. The mobilisation was performed over a course of three sessions once every two months. The group also performed certain exercises twice a day to encourage the muscle to keep firing. After 24 weeks, the volunteers scored their pain levels and were compared with the control group.
At the start of the study there were no differences between the groups. But at the end of the 24 weeks, people who had done the exercises had reduced pain and stiffness scores and improved function.
"Patellar mobilisation therapy has the potential to reduce pain and improve function and quality of life for patients with knee osteoarthritis," the authors explain.
Before then, more studies will need to be done to show the full potential of this type of treatment and how long the effects on pain may last for.
Dr Devi Rani Sagar, research liaison manager at Versus Arthritis comments:
"Knee osteoarthritis affects over 4.7 million people across the UK. The condition can have a huge impact on a person's life, often making many everyday activities we take for granted, such as walking, climbing stairs or even sleeping, unbearable.
"Despite its high prevalence, knee osteoarthritis is not well understood, meaning it can be harder to identify effective treatments. Testing new treatment approaches is essential if we are going to improve the quality of life for millions of people with arthritis."
Click here to read the original findings.
Arthritis Digest Magazine was selected by Feedspot as one of the Top 5 Arthritis Blogs on the internet in 2018.
For more in-depth features, interviews and information, subscribe to Arthritis Digest magazine, a popular title that's published six times a year. Click here for the digital version or tel 0845 643 8470 to order your had copy. You'll know what your doctor is talking about, what new drugs are in the pipeline and be up to date on helpful products.