Combined cognitive-behavioural therapy – CBT – improves sleep for people with fibromyalgia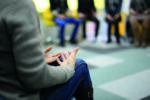 New approaches to cognitive-behavioural therapy (CBT) can improve insomnia aspects of fibromyalgia, says a small study in the International Journal of Clinical and Health Psychology.
Sleep problems are a key component of fibromyalgia. CBT is often used to manage fibromyalgia, particularly the psychological processes associated with pain and insomnia. But a team believed that combined forms of CBT could offer even greater sleep-related benefits to people with fibromyalgia.
So they split 39 women with fibromyalgia and insomnia into groups. One group were given CBT that focused on pain and the other group had CBT that centred on pain and insomnia.
People who had CBT for pain spent more time in bed, more time asleep and had less light sleep, but there was no improvement on how well they thought they slept.
But those who had CBT for pain and insomnia had higher sleep efficiency, less time awake, a longer time in deep sleep and had higher levels of perceived sleep quality.
Interested in CBT for pain or sleep (or both)? Ask your GP for a referral.
Read more recent fibromyalgia research here.
Arthritis Digest Magazine is selected by Feedspot as one of the Top 5 Arthritis Blogs in 2020.
For more in-depth features, interviews and information, subscribe to Arthritis Digest magazine, a popular title that's published six times a year. Click here for the digital version or tel 01892 354087 to order your hard copy. You'll know what your doctor is talking about, what new drugs are in the pipeline and be up to date on helpful products.