Continuous NSAIDs in ankylosing spondylitis linked to increased blood pressure in new study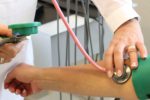 Using non-steroidal anti-inflammatory drugs (NSAIDs) to treat ankylosing spondylitis on a continuous basis is associated with an increased risk of high blood pressure experts reveal in Arthritis Care & Research.
A team gathered data from 628 people with ankylosing spondylitis who did not have high blood pressure. Every four to six months they were examined for disease activity, functional impairment and high blood pressure. According to the researchers, 200 of the 628 participants used NSAIDS continuously.
Over the seven years of follow-up, 129 people developed high blood pressure:
40% used NSAIDS continuously;
47% used TNF inhibitors;
16% were on both NSAIDs and TNF inhibitors.
The researchers determined that continuous NSAID use was associated with a 12% increased risk of high blood pressure compared with noncontinuous or no use. This link remained unchanged even when BMI, biologic use and disease activity were taken into account. Dr Jean Liew who is involved in the research comments:
"In clinical practice, I would recommend focusing on discussing the risks of NSAID therapy with patients and being vigilant about screening for cardiovascular risk factors, including hypertension, and making sure that these conditions are treated in conjunction with primary care.
"This is a study of association, and the risk was modest, so I would caution clinicians against using these results to recommend stopping NSAID treatment as a general measure," she added. "There are other studies that have suggested that NSAID use might actually be protective against [myocardial infarction] or stroke in individuals with AS."
Arthritis Digest Magazine was selected by Feedspot as one of the Top 5 Arthritis Blogs on the internet in 2018.
For more in-depth features, interviews and information, subscribe to Arthritis Digest magazine, a popular title that's published six times a year. Click here for the digital version or tel 0845 643 8470 to order your had copy. You'll know what your doctor is talking about, what new drugs are in the pipeline and be up to date on helpful products.