Coronavirus update for people with arthritis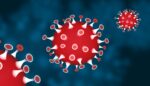 Worried about how coronavirus may affect your arthritis or your arthritis medication? The leading UK arthritis charities are the best places to keep updated with key information. We recommend checking in with Versus Arthritis 0800 5200 520 or the National Rheumatoid Arthritis Society (0800 298 7650) for all the latest information, either online or on the phone.
Meanwhile, at Arthritis Digest we'll continue to keep you up to date with the latest research about arthritis, fibromyalgia and similar conditions.