Depression and rheumatoid arthritis – what does the research say?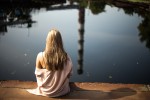 Diagnose depression in people with rheumatoid arthritis as early as possible in order to initiate appropriate treatment, says a review in a leading German journal, which highlights the following points:
The prevalence of a depressive disorder in rheumatoid arthritis is estimated to be between 9.5% and 41.5% depending on the study and with women being more affected;
In rheumatoid arthritis, the risk of developing a depressive disorder is highest in the first five years;
Depression is a better predictor of work disability than disease activity and response to treatment;
Depression in rheumatoid arthritis is associated with more pain, fatigue and impaired quality of life;
The association between depression and rheumatoid arthritis is bidirectional.
"The risk to develop a depression is increased with impaired function as measured by the health assessment questionnaire and there is evidence that increased disease activity increases the risk for depression in rheumatoid arthritis," the research teams says. "A depressive disorder also affects the subjective severity of patient-reported outcomes, such as tender joints and the global patient assessment with respect to disease activity.
"It could be shown that depression unfavorably influences the response to therapy, the rate of remission is lower and the mortality is increased in rheumatoid arthritis patients. Taken together, this indicates that it is necessary to detect a depression in patients with rheumatoid arthritis as early as possible in order to initiate appropriate treatment of depression in such cases."
Click here to read the original research.
Arthritis Digest Magazine was selected by Feedspot as one of the Top 5 Arthritis Blogs on the internet in 2018.
For more in-depth features, interviews and information, subscribe to Arthritis Digest magazine, a popular title that's published six times a year. Click here for the digital version or tel 0845 643 8470 to order your had copy. You'll know what your doctor is talking about, what new drugs are in the pipeline and be up to date on helpful products.