Dr Robin Munro discusses the varied role of the consultant rheumatologist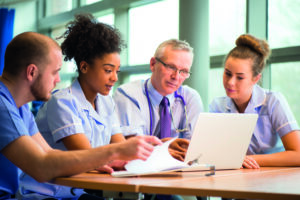 When I first became a consultant rheumatologist over 20 years ago, my hospital had 12 beds dedicated to people hospitalised with inflammatory joint diseases, and they were always full. Thanks to huge advances in treatments and a move to diagnose and treat people as fast as possible, there is currently only one patient in my hospital due to inflammatory joint disease.
Of course there are still many challenges and improvements to be made. But more people than ever before are living healthy normal lives with inflammatory arthritis, even those with physically demanding jobs. It's progress that I could only have dreamed of two decades ago, which is largely thanks to the development of game-changing treatments such as anti-TNF therapy funded by the charity Versus Arthritis, and the training and education they and others provide.
Most patients I see have an inflammatory arthritis such as psoriatic arthritis or rheumatoid arthritis. I see a smaller number of patients with connective tissue disease including systemic lupus erythematosus and Sjogren's syndrome. I also lead the local osteoporosis service.
Osteoarthritis tends to be managed in the community by GPs and physiotherapists. Consultant rheumatologists regularly meet with GPs and support them with patient education and developing treatment pathways.
Today, GPs are much more aware of inflammatory joint disease and the importance of early treatment, which is a large part of the reason why long-term health outcomes are so much better.
The start of the journey
If a GP suspects that one of their patients may have a form of inflammatory arthritis, they are referred onto a rheumatology department and we aim to see them within three to six weeks.
At the first appointment I listen to the patient's symptoms and conduct a full examination. Tests have usually already been arranged by the GP (blood tests, ultrasound and/or X-ray) as we are keen that referrals with new inflammatory arthritis are not delayed by waiting for results.
Once the diagnosis of a new inflammatory arthritis is made, I will explain what the condition is and what the implications are. We discuss the different drug treatment options and work out a treatment plan together.
A supportive team
It's a lot of information for someone newly diagnosed to take in, which is why the specialist nurse is so important. The specialist nurse spends time answering questions and discusses lifestyle issues and difficulties the person is encountering and how we can help.
Occupational therapists help people newly diagnosed and those encountering new issues. Occupational therapists are experts on work issues, managing fatigue, relaxation techniques and keeping active. They can help with any difficulties with daily activities and provide living aids.
Physiotherapists help improve the range of movement if someone's joints have been damaged and can tailor exercises to individual situations. They advise how to keep fit and active, something we are now appreciating as important in managing arthritis.
Ongoing help
The rheumatology team sees newly diagnosed patients every six to eight weeks (or more often if necessary) until their arthritis responds to treatment and settles down.
Patients with inflammatory joint disease are rarely discharged, so even when someone's arthritis is well-controlled, we discuss when they would like to be reviewed. This might be every one to two years but will be more often if needed.
A helpline is covered by specialist nurses five days a week so people with queries or problems continue to access support and specialist appointments and care.
Our multidisciplinary team meets once a week so rheumatologists, specialist nurses, occupational therapists and physiotherapists can discuss patients, protocol and anything else we need to. We hold regular team educational meetings that allow us to hear from guest speakers to keep us updated with information, research, etc.
The rest of the job
Like professionals in many industries, every year I spend at least 50 hours on Continuing Professional Development (CPD), which means developing and enhancing my abilities as a rheumatologist.
I take part in relevant research and am fortunate that the department has strong links with local universities and actively contribute to the Scottish Collaborative Arthritis Research network.
I enjoy teaching medical students about arthritis. Students regularly join us in the clinic, which gives them the opportunity to meet people with arthritis and hopefully equip them to recognise when patients may benefit from referral to a rheumatology clinic.
Pandemic
The last year has been difficult due to COVID-19. We have worked in a flexible and realistic way with hospitals often inaccessible to rheumatology out-patients due to wards full of COVID patients. Managing patients remotely is challenging but possible. Physical examination remains important in diagnosis and assessment of how active disease, so not all appointments can be done remotely. Let's hope that brighter times lie ahead.
If you need to talk to someone about your arthritis symptoms or would like to find out about local support, contact Versus Arthritis, visit www.versusarthritis.org or tel 0800 520 0520.
PS Did you know that Arthritis Digest Magazine is labelled the best UK Arthritis blog from thousands of blogs on the web ranked by traffic, social media followers, domain authority & freshness?