Eat well now for better bone health later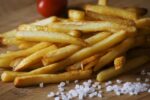 A healthy diet throughout our lives impacts on when and how badly osteoporosis develops in our latter years, experts report in a leading Spanish journal.
If people have osteoporosis, excess weight is preferable to being under weight, the experts suggest. In this context, protein intake higher than that recommended is beneficial for bones, provided calcium intake is adequate. And, in general, we should all aim to:
Avoid excessive intake of, sugar, saturated fat, salt and phosphorus;
Meet the nutritional goals set for omega-3 fatty acids and fibre;
Monitor vitamin D status and calcium intake;
Improve intake of vitamins K, C, B, magnesium, potassium, iron, zinc, copper, fluorine, manganese, silicon and boron.
"Due to its high morbidity and mortality, prevention is important and from a nutritional point of view, it is convenient to bring the diet closer to the theoretical ideal," the experts advise. "In general, increase the consumption of dairy products, fish, vegetables and fruits, and reduce the consumption of salt, during childhood and throughout life."
Click here for the original research
Like what you see? Read more of our news stories on diet and osteoporosis.
Arthritis Digest Magazine is selected by Feedspot as one of the Top 5 Arthritis Blogs in 2020.
For more in-depth features, interviews and information, subscribe to Arthritis Digest magazine, a popular title that's published six times a year. Click here for the digital version or tel 01892 354087 to order your hard copy. You'll know what your doctor is talking about, what new drugs are in the pipeline and be up to date on helpful products.