Eating more fruit and veg makes bones stronger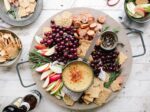 An increase in plant food consumption – irrespective of whether meat is eaten or not – is associated with improved bone mineralisation markers in healthy people with normal bone mineral density.
Experts set out to look at the relationship between plant food consumption and bone mineral density in 73 people (33 women and 40 men) aged on average 56 years old and in good health and report their findings in the Journal of Nutrition, Health and Aging.
Over the course of 12 months, the volunteers recorded what they ate and how much exercise they took. X-rays were carried out to establish their bone mineral density and measures were made of calcium, vitamin D and protein.
When the team analysed the data they were able to group the volunteers' diets along the lines of: Meat Based; Junk Food; and Plant Based. They took into account people's ages, gender, physical activity levels and body mass index and found that: "in a healthy middle aged population with normal bone mineral density, an increase in plant food consumption, either alone or in combination with a diet containing meat, is associated with improved bone mineralisation markers. This positive relationship is most likely due to the extensive range of micronutrients and phytochemicals packaged within plants."
Click here to read the original research.
For more on bone health click here. What to know more about the impact of diet on arthritis, bones and fibromyalgia? All the latest news is here.
Arthritis Digest Magazine was selected by Feedspot as one of the Top 5 Arthritis Blogs on the internet in 2019.
For more in-depth features, interviews and information, subscribe to Arthritis Digest magazine, a popular title that's published six times a year. Click here for the digital version or tel 0845 643 8470 to order your had copy. You'll know what your doctor is talking about, what new drugs are in the pipeline and be up to date on helpful products.