Education and support for Spanish speakers available on CreakyJoints Español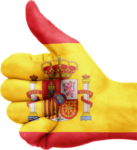 CreakyJoints, a digital arthritis community for people with arthritis and caregivers worldwide, recently launched CreakyJoints Español (www.creakyjoints.org.es), a new website for Spanish-speaking people who seek arthritis education, support, activism, and patient-centred research.
"In the United States, there are 4.4 million Hispanics with doctor-diagnosed arthritis," says Seth Ginsberg, president and co-founder of CreakyJoints. "Though prevalence of arthritis among Hispanics is less than non-Hispanic whites, Hispanic people are more than twice as likely to become disabled from arthritis and experience joint damage."
The resource will be useful for Spanish people around the world; recent figures from the Office for National Statistics highlight that around 116,000 Spaniards currently live in the UK.
"CreakyJoints strives to provide education to our entire community, including those who speak Spanish," adds Mr Ginsberg. "Our goal is to empower patients to ask questions about their disease journey, including treatment options, and inspire them to proactively communicate their preferences to their healthcare team."
Maraliz Campos, a volunteer patient advocate on the CreakyJoints Latino/Latina Patient Council and a sonic meditation teaching artist and yoga instructor comments:
"I lived with painful symptoms of rheumatoid arthritis (and other co-morbid autoimmune diseases) for nine years before getting accurately diagnosed. During that time, I tried a wide array of traditional, homeopathic, and complementary therapies until I found a treatment plan that helped me achieve remission. There were days when I felt great, and other times I felt overwhelmingly tired or in pain. When a person with arthritis needs education and support, this website will help them understand their disease better, and explain its progression to family and friends."
For more information visit CreakyJoints Español (www.creakyjoints.org.es ).