Enjoy cooking as much as ever thanks to our tips, tricks and round-up of kitchen products for people with arthritis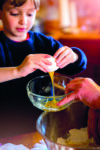 Top tips and tricks for people with arthritis in the kitchen
Put some ready-made meals and pre-prepared ingredients in the freezer to make life easier on days when your arthritis symptoms are worse.
Take water to the kettle in a light plastic jug to avoid having to move/unplug the kettle.
Cook vegetables in a wire chip basket in a saucepan… it's much easier to lift them out when cooked.
Use a trolley (or a chair with wheels) to move items around the kitchen if you are spending time in the kitchen or cooking with arthritis.
Consider changing your taps as lever taps can be gentler on stiff and painful hands.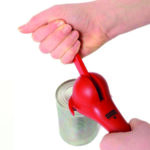 Opening time
A clever tin opener for arthritis that is the talk of the dinner table. Its ratchet handle moves backwards and forwards, a kinder movement for many people with sore hands.
Once a full revolution of the can is made you'll feel less resistance as the can is open. There are no sharp edges on the lid or the can as this tin opener for arthritis cuts in a completely different way to all others. And as a final bonus it has a hook that is marvellous at opening ring pull cans as well.
£14.95 (ex delivery), visit www.springchicken.co.uk or tel 01865 567177.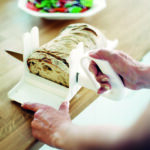 The best thing since sliced bread?
Check out the safe and secure cutting board from The Helpful Things Company. Sitting firmly on a surface, the board keeps items to be cut securely in position. The slice thickness is controlled using an adjuster bar and the knife fits between the guides, making it easier for people with arthritis to cut bread, vegetables or meat.
£19.99 (ex delivery), visit www.helpfulthings.co.uk or tel 01865 699060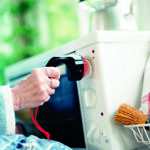 Turn me on (and off)
The Etac Uni turner is a plastic device that assists people cooking with arthritis when turning taps, knobs and even keys. Red hexagonal pegs ensure a good grip around the knob and the angled handle is comfortable to use.
£6 (ex delivery), visit www.enableliving.com or tel 01772 814555
Interested in finding out more about a celebrity chef and how she takes on osteoporosis? Click here for inspiration.