Evidence review questions if salt to blame for rising levels of autoimmune disease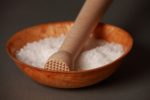 Autoimmune disease is increasing in Western countries and salt could be part of the problem, according to a review of the evidence in Nutrients.
We know that genetics and environment both play a role in development of autoimmune disease. And now a new review of the research about the impact of dietary habits suggests that salt has a pro-inflammatory effect in rheumatoid arthritis, lupus, multiple sclerosis and Crohn's disease. Lab studies have found the same. But some other research using mice has found evidence to the contrary. The authors conclude:
"These results dictate the need to further analyse the role of cooking salt in the treatment and prevention of autoimmune diseases, trying to shape a fine tuning between the possible advantages of a restricted salt intake and the changes in circulating metabolites, mediators, and hormones which come along salt consumption and could in turn influence autoimmunity."
Click here to read the original findings.
Interested in more news about arthritis and diet? Check out lots more stories here.
Arthritis Digest Magazine was selected by Feedspot as one of the Top 5 Arthritis Blogs on the internet in 2018.
For more in-depth features, interviews and information, subscribe to Arthritis Digest magazine, a popular title that's published six times a year. Click here for the digital version or tel 0845 643 8470 to order your had copy. You'll know what your doctor is talking about, what new drugs are in the pipeline and be up to date on helpful products.