Excess vitamin B6 and B12 may increase risk of hip fracture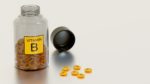 Vitamins are essential for good health but beware of consuming more than recommended levels, experts warn in JAMA Network Open.
There is no doubt that some people need to take supplements, but there is a growing concern that many people are taking more than they should. Vitamin B6 and B12 carry out a wide array of roles in the body and occur in a range of foods. Most people find it is fairly easy to consume adequate amounts of vitamin B6 and B12 from a balanced diet but some people do take them as supplements.
So a team of experts looked at vitamin B intake in over 75,000 post-menopausal women and recorded health, diet, use of supplements, recreational activities, medications, smoking status, and body mass index. During the 20-year study there were 2,304 hip fracture cases that were not associated with cancer or major trauma.
An analysis of the data found that consuming vitamins B6 and B12 in large amounts heightened the risk of hip fracture.
"The risk was highest in women with a combined high intake of both vitamins, exhibiting an almost 50% increased risk of hip fracture compared with women with a low intake of both vitamins," the team explains. "[But] among women in the medium intake categories for both vitamins, risk was not significantly elevated."
They also note that higher levels of the B vitamins were associated with supplements but not dietary intake. The level of vitamin B intake necessary to increase the risk of fracture "far exceeded the recommended dietary allowances.
"The findings add to the body of literature that suggests caution should be used in vitamin supplementation when there is no apparent deficiency."
Click here to read the original research.
Arthritis Digest Magazine was selected by Feedspot as one of the Top 5 Arthritis Blogs on the internet in 2018.
For more in-depth features, interviews and information, subscribe to Arthritis Digest magazine, a popular title that's published six times a year. Click here for the digital version or tel 0845 643 8470 to order your had copy. You'll know what your doctor is talking about, what new drugs are in the pipeline and be up to date on helpful products.