Exercise reduces bone loss and improves balance: evidence review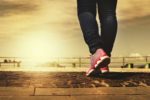 Osteoporosis can be prevented by exercise, which also improves balance and so helps people avoid falls and fractures, says a new study in the Journal of Sport and Health Science.
A global problem, osteoporosis is characterised by low bone mass and bone deterioration, leading to fragility and increased risk of fracture.
Researchers reviewed the evidence and found that exercise can prevent some of the complications associated with menopause, such as bone loss, loss of fitness and increased risk of osteoporosis. Exercise effectively decreases risk factors for falling and improves balance.
Commonly used forms of exercise for osteoporosis treatment include aerobic exercise, resistance exercise, combined aerobic exercise with resistance training and balance training.
Key findings
Aerobic exercise and resistance exercise stimulate bone synthesis and decrease deterioration of bone in post-menopausal women with osteoporosis;
Exercise while wearing a weighted vest is better for improving balance;
T'ai chi (long term) decreases the loss of bone mineral density and reduces the risk of fractures;
Moderate aerobic exercise (short term) improves balance;
Low-intensity balance and strength training improve long-term strength and balance;
Resistance training and balance training (long term) improve the walking speed of elderly women with osteoporosis;
Supervised long term, high intensity combined aerobic exercise with resistance training increases bone mineral density and prevents fractures.
The team concludes that "short-term, moderate-intensity aerobic exercise and long-term, high-intensity resistance exercise can prevent osteoporosis and improve balance capacity, aiding in the avoidance of falls and fractures."
Click here to read the original research. 
Arthritis Digest Magazine was selected by Feedspot as one of the Top 5 Arthritis Blogs on the internet in 2018.
For more in-depth features, interviews and information, subscribe to Arthritis Digest magazine, a popular title that's published six times a year. Click here for the digital version or tel 0845 643 8470 to order your had copy. You'll know what your doctor is talking about, what new drugs are in the pipeline and be up to date on helpful products.