Exposure to inorganic dust increases risk of gout in women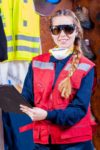 Occupational exposure to inorganic dust increases the risk of gout in women by over one-quarter, experts highlight at the Annual European Congress of Rheumatology.
Inorganic dust is made up of mineral-based dust such as asbestos, silica and coal. Some occupations involve high exposure to these substances (cleaners, maintenance staff, plumbers, electricians, car fitters, welders and machinery mechanics). We already know that this exposure is linked to an increased occurrence of rheumatoid arthritis but until now, there was no known link with gout.
So a research team looked at data from 6,120 people who were diagnosed with gout and recorded occupation, presence of psoriasis and renal disease, alcohol abuse, obesity and diuretic treatment.
Key findings
Gout risk increased by 27% in women who were exposed to inorganic dust;
Gout is more than twice as likely in alcoholic patients;
Gout is more than three times as likely in obese patients.
"This is the first time occupational exposure to inorganic dust has been shown to be associated with the development of gout," explains Dr Valgerdur Sigurdardottir, who is involved in the research. "Further study is needed to understand the dangers of exposure to inorganic dust in relation to gout and other inflammatory rheumatic diseases."
rthritis Digest Magazine was selected by Feedspot as one of the Top 5 Arthritis Blogs on the internet in 2018.
For more in-depth features, interviews and information, subscribe to Arthritis Digest magazine, a popular title that's published six times a year. Click here for the digital version or tel 0845 643 8470 to order your had copy. You'll know what your doctor is talking about, what new drugs are in the pipeline and be up to date on helpful products.