Flavonoids, resveratrol and curcumin may reduce arthritis disease activity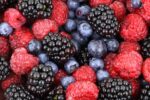 Plenty of research has looked at the effect of diet on rheumatoid arthritis as a complementary treatment along with standard drug therapy. Various types of diet have been investigated. Fasting, the Mediterranean diet, the Cretan Mediterranean diet, vegetarian diets, anti-inflammatory diets and the use of various specific food substances have been the focus of research.
Now a summary of the evidence in the Mediterranean Journal of Rheumatology has found that a period of fasting followed by Mediterranean diet, the Cretan Mediterranean diet and an anti-inflammatory diet have a beneficial effect on disease activity in rheumatoid arthritis.
Obesity was associated with increased disease activity in rheumatoid arthritis, but the study also found that weight loss appears to be related to increased mortality. Beneficial effects were also encountered via:
Flavonoids (obtained from blackberries, blueberries, cherries and raspberries, red cabbage, onions and kale);
Resveratrol (found in grape skins, blueberries, raspberries, mulberries, and peanuts);
And curcumin (the active ingredient in turmeric, which is in the ginger family).
The team concludes that "it appears that diet may aid in rheumatoid arthritis management as a complementary factor to standard drug treatment."
Click here to read the original research.
Arthritis Digest Magazine is selected by Feedspot as one of the Top 5 Arthritis Blogs in 2020.
For more in-depth features, interviews and information, subscribe to Arthritis Digest magazine, a popular title that's published six times a year. Click here for the digital version or tel 01892 354087 to order your hard copy. You'll know what your doctor is talking about, what new drugs are in the pipeline and be up to date on helpful products.