Frankincense has important anti-inflammatory properties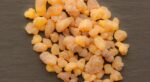 An inflammatory enzyme is reprogrammed into an anti-inflammatory enzyme by frankincense, the resin of the Boswellia tree, says new research in Natural Chemical Biology.
Once upon a time, three Kings brought precious gifts to the new-born baby Jesus: as well as gold and myrrh, they had frankincense in their bags.
"Even today, frankincense is a valuable gift," explains Prof Oliver Werz of Friedrich Schiller University, although he is not really thinking about the biblical meaning of frankincense. "The resin extracted from the bark of the frankincense tree contains anti-inflammatory substances, which make it suitable for the treatment of diseases such as asthma, rheumatoid arthritis or neurodermatitis, among others."
Prof Werz and his team have been investigating the anti-inflammatory effect of frankincense resin for several years. Now they have uncovered the molecular mechanism of boswellic acid, the substance responsible for the anti-inflammatory effect of frankincense.
"The frankincense component reprograms the inflammatory enzyme into an anti-inflammatory enzyme," Prof Werz says.
The boswellic acids from frankincense will now be tested in relevant disease models and hopefully developed as a drug to treat inflammatory diseases.
Arthritis Digest Magazine was selected by Feedspot as one of the Top 5 Arthritis Blogs on the internet in 2019.
For more in-depth features, interviews and information, subscribe to Arthritis Digest magazine, a popular title that's published six times a year. Click here for the digital version or tel 0845 643 8470 to order your had copy. You'll know what your doctor is talking about, what new drugs are in the pipeline and be up to date on helpful products.