Gum disease may trigger rheumatoid arthritis – new findings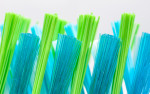 Another study has found that gum disease may play a role in triggering the onset of rheumatoid arthritis, highlighting the need for healthcare professionals to be vigilant for the early signs of gum disease in their patients.
US experts looked at the link between rheumatoid arthritis and periodontitis (gum disease that causes inflammation in the gums and destroys the bone that supports teeth).
A total of 23 people with rheumatoid arthritis and 20 healthy people of matching age and gender were enrolled in the study, in which the research team performing joint and dental examinations.
Of the people with rheumatoid arthritis, six had periodontitis. But all 23 people in this group had stronger indications of dental inflammation such as increased pocket depth, clinical attachment loss, bleeding on probing and high volumes of gingival crevicular fluid, than the healthy people.
"Rheumatoid arthritis patients showed a marked inflammatory profile in all microenvironments, including oral, despite routine dental care," the authors say.
Subscribe to Arthritis Digest, the UK's fastest growing arthritis magazine for all the latest arthritis news, reviews and celebrity interviews. You'll know what your doctor is talking about, what new drugs are in the pipeline and be up to date on helpful products. Hard copy and digital versions both available. Click here for more information.
Image credit: William Warby