Hip fracture surgery – most people recover independence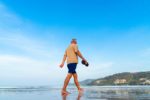 The majority of middle-aged and older adults recover their ability to live independently within a year of hip fracture surgery, says a study in the Journal of Orthopaedic Trauma that highlights who will need most long-term help.
The study included over 600 people aged 50 years or older who had surgery for a common type of hip fracture (fracture of the femoral neck). All of the volunteers were living and/or walking independently before they fractured their hip. One year after hip fracture:
3% of people aged 50–80 years at the time of surgery were living in an institution and 34% needed a walking aid;
20% of people older than 80 years were living in an institution and 69% needed a walking aid;
The people most likely to be walking and living independently had better fitness before surgery, didn't smoke, were less likely to have used a walking aid before hip fracture, had a non-displaced fracture and did not need revision surgery.
The findings are important because hip fracture is common and often lead to decreased mobility. Now we understand better what affects the chance of recovering independence and mobility after surgery for a fracture. Lead author Dr Emil Schemitsch concludes:
"Identifying factors associated with living and walking independently following a hip fracture may help the orthopaedic community better identify which patients are at risk for loss of independence and mobility following a hip fracture, and ultimately help to optimize the care of patients with this type of injury."
Arthritis Digest Magazine was selected by Feedspot as one of the Top 5 Arthritis Blogs on the internet in 2018.
For more in-depth features, interviews and information, subscribe to Arthritis Digest magazine, a popular title that's published six times a year. Click here for the digital version or tel 0845 643 8470 to order your had copy. You'll know what your doctor is talking about, what new drugs are in the pipeline and be up to date on helpful products.