Hotter climates lead to stronger bones: latest research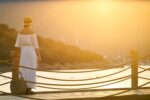 Exposure to warmth improves bone strength according to new research published in Cell Metabolism. And the effect, the experts have discovered, appears to be due to gut microbiota… tiny microorganisms including bacteria and fungi that live in the digestive tract.
Usually linked to ageing, osteoporosis is characterised by a loss of bone density and an increased risk of fracture. About 50% of women and 20% of men over 50 years old will fracture a bone because of osteoporosis according to Age UK.
Now a team from the University of Geneva has observed that exposure to warmer temperatures (34°C) increases bone strength, while preventing the loss of bone density typical of osteoporosis. And this seems to be linked to a change in the composition of gut microbiota triggered by heat.
The team analysed global data on the incidence of osteoporosis in relation to the average temperature, latitude, calcium consumption and vitamin D levels. Interestingly, they found that the higher the temperature, the fewer hip fractures – one of the main consequences of osteoporosis – regardless of other factors.
"We found a clear correlation between geographical latitude and hip fractures, meaning that in the northern countries the incidence is higher compared to the warmer south," says Prof Mirko Trajkovski, who led the study.
More experiments showed that when the gut bacteria adapts to heat it disrupts in the production and destruction of molecules (polyamines) that are involved in ageing, and in particular in bone health.
These data therefore indicate that exposure to warmth could be a prevention strategy against osteoporosis.
Interested in osteoporosis and bone health? Click here for more research.
Arthritis Digest Magazine is selected by Feedspot as one of the Top 5 Arthritis Blogs in 2020.
For more in-depth features, interviews and information, subscribe to Arthritis Digest magazine, a popular title that's published six times a year. Click here for the digital version or tel 01892 354087 to order your hard copy. You'll know what your doctor is talking about, what new drugs are in the pipeline and be up to date on helpful products.