I was delighted to take part in a study funded by Versus Arthritis explains Clive Nayler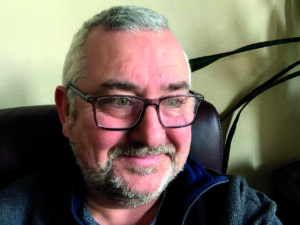 My symptoms of dermatomyositis began in 2018, with painful, bloated hands and toes, with skin that hardened, peeled and split continuously.
My arm and leg strength reduced, resulting in rapid reduction in mobility. My GP had suggested the possibility of dermatomyositis and I was referred to a dermatologist and consequently to rheumatology and lung consultants.
My symptoms have been variable and change frequently between clinic appointments. I have frequently found it challenging to easily and accurately convey symptom variation to any of the doctors looking after me. I was delighted to take part in the MyoPAD study. Participation was straightforward and everything was explained to me before and during the recruitment appointment.
Active participation was required; I needed to enter questionnaire answers every day and continuously wear the sensor. This didn't feel onerous and actually made it feel that I was a vital part of the study. My results showed how my symptoms and walking pattern changed over the three months. It would be great to be able to review this sort of data with my doctors during routine clinic appointments. The results highlighted the multi-factor elements of this rare disease in action and hopefully will lead to improved management of the symptoms.
More about the MyoPAD study
The Myositis Physical Activity Device (MyoPAD) study – funded by Versus Arthritis and The National Institute for Health Research Manchester Biomedical Research Centre – aimed to investigate if remote patient monitoring could be used to detect the occurrence of myositis flares. Dr Alexander Oldroyd worked as Principal Investigator for the study alongside Prof Hector Chinoy and Prof William Dixon, and in collaboration with the Manchester Myositis Research Group and The University of Manchester's Centre for Epidemiology Versus Arthritis. MyoPAD was designed alongside industry partners from ZiteLab and SENS Innovation. ZiteLab, who specialise in app development for patient data collection and patient registries, led the app development. SENS Innovation, who specialise in wearable sensor development for gait/physical activity measurement, led sensor-based aspects of the study.
Keen to submit your own story? Email iona@griffinpublishingsolutions.com.
PS Did you know that Arthritis Digest Magazine is labelled the best UK Arthritis blog from thousands of blogs on the web ranked by traffic, social media followers, domain authority & freshness?
For more in-depth features, interviews and information, subscribe to Arthritis Digest magazine, a popular title that's published six times a year. Click here for the digital version or tel 01892 354087 to order your hard copy. You'll know what your doctor is talking about, what new drugs are in the pipeline and be up to date on helpful products.