Ideal diet revealed for people with rheumatoid arthritis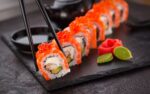 Rheumatology specialists are often asked about precise dietary recommendations for people with rheumatoid arthritis. Other than standard healthy eating advice it can be difficult to give exact instructions as the science at times appears to conflict.
But now a research team has looked at the evidence published in the area and put together some extremely precise advice in Clinical Nutrition, aiming to help people with rheumatoid arthritis eat to counteract inflammation.
DAILY
Five portions of fruit and veg;
Spices – curcumin, ginger and cinnamon;
Three portions of carbohydrate, ideally in the form of cereals (such as rice, corn or buckwheat);
One portion of low-fat milk and one portion of light yoghurt (or two portions of one of them);
One 30g portion of seeds and dried fruits or two portions of extra virgin olive oil;
A small glass of red wine.
THREE TIMES A WEEK
White meat, omega-3 rich fish (ie mackerel or salmon) or fresh legumes.
TWICE A WEEK
Two portions of eggs or fresh cheese.
ONCE A WEEK
One portion a week of red meat or processed meat.
The team advises that people exercise every day, drink 1.5–2 litres of water, supplement the diet with vitamin D and omega 3 and avoid salt and sugar, concluding that "the food pyramid allows patients to easily figure out what to eat."
Click here to read the original research and to see the food pyramid that the experts came up with.
Interested in arthritis and diet? We've written lots on this, read more here.
Arthritis Digest Magazine is selected by Feedspot as one of the Top 5 Arthritis Blogs in 2020.
For more in-depth features, interviews and information, subscribe to Arthritis Digest magazine, a popular title that's published six times a year. Click here for the digital version or tel 01892 354 087 to order your hard copy. You'll know what your doctor is talking about, what new drugs are in the pipeline and be up to date on helpful products.